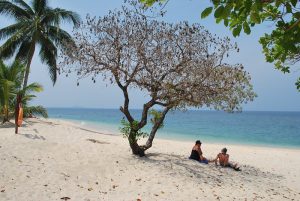 If you're lusting after a luxury holiday, to Turtle Island for instance, your dream trip doesn't have to remain a fantasy. You can easily grow your travel fund and make your dream trip a reality. Here are tips that will go a long way.
Setting a Realistic Goal
When coming up with your saving goal, make sure it is attainable, based on how much you earn and expenses. If you set a goal that is too high, you might start losing hope because you will be saving but not making any dent on your savings goal. This is where many people decide to give up.
What many people do is design their vacation and then find out the actual cost. A better idea is to come up with a reasonable budget and then start planning the trip while trying to stay close to that figure. One reality you have to deal with is there is only so much money.
Once you have set your goal, divide it by the number of months you have until the trip. Then, add this amount to your budget.
Paying Yourself First
Once you start paying your bills, you might find yourself having a hard time budgeting the money you are left with, and saving for your vacation might be the last thing on your mind. Have an automatic transfer to your savings account every time you are paid.
You also need to think about where you are going to put your money. There are online banks offering 2 per cent interest on savings – which is higher than the national average. This can seem like a small percentage, but it can be enough to pay for your fancy dinner in your dream destination.
Saving from Your Smartphone
There are apps that you can install on your phone that can turn it into one of the best savings tools. A good example is an app called Digit, which takes a small amount out of your account daily and transfers it into a savings account. In the morning, it sends you a text that lets you know how close you are to reaching your goal.
There are other apps that will make saving very simple without even having to think about it. Some apps like Acorns and Qapital will round up purchases to the nearest pound and then take the difference and add it to your savings account. This can seem like a small amount, but it will add up over the months.
Picking Up the Tab at Dinner
When going out for dinner with your friends, you can easily ruin a good dinner by splitting the bill on different credit cards. When you offer to put the total on your card, you will improve your dining experience – and it can help in funding your vacation. There are credit cards that will reward you with a bonus at restaurants. When you have this, volunteer to pick up the tab so you can get the points. Once you have paid, your friends can pay you back using a payment app.
Resisting Impulse Buying
There is a good chance you have stolen a few minutes from your workday because there was a great sale on your favourite online store. You did not plan on buying the handbag, but you have been seeing the ads over and over again – and you find yourself having a hard time resisting the sale or deal.
Try your best to resist an impulse buy, then take the money you would have used on the items and transfer it into your travel fund. This can add up fast, and it can be a bonus that is going to make your trip a success.
Asking for Discounts
When was the last time you asked for a discount on your insurance rates or mobile phone bill? If it has been long, it might be the best time to call the companies and see what discount they can offer you.
When it comes to bargaining with a customer service rep, make sure you are both firm and kind. If you aren't happy with what they are offering, then consider calling back another day. The few minutes you are going to spend on the phone call can easily result in saving £15 a month, which you can then add to your travel fund.