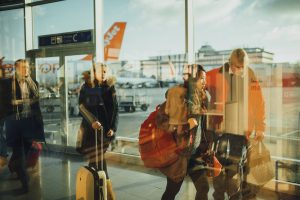 Whether you are planning an amazing winter vacation, a trip to photograph the Northern Lights or that long-awaited ski break, there is one important thing to consider – and that is the size of your suitcase. You may have a lot to accommodate like those toasty coats, scarves to keep you warm, your chester jefferies gloves and any other cold-weather gear. But you may have to struggle to pack all of those bulky winter clothes because of your luggage limit. Here are eight easy cold-weather packing hacks to stay stylish and warm – without going over the luggage limit.
1. Stay Warm With Thermals
Thermals are a great way to stay warm without having to pack bulky clothes. Even though thermals have a bad reputation as your granny's undergarments, they deserve much better than that. With thermals, you can wear lighter tights and tops and you won't freeze in the winter. They are ideal if you are planning to visit Stockholm and mingle with the stylish locals.
2. Bulk Up on the Plane
If you are planning to visit a cold winter destination, you may not be able to carry heavy boots and a huge coat because it takes up a lot of luggage space. But there is a solution to this. You can wear the heaviest items on the plane. They will also help protect you from the air conditioning on board.
3. Roll Your Clothes
Rolling is a tried-and-tested method that will give you extra space in your bag. Roll up the clothes before you pack them instead of folding them. This will minimise empty gaps in the bag and reduce the amount of creasing.
4. Wear Sunscreen
Sunscreen may not be on the top of your list when you are preparing for a winter vacation. But if you are planning to visit a snowy place, sunscreen is essential. If you plan to ski, sunscreen is vital because long days on the slopes may result in some serious sunburn.
5. Pack Light and Layer Up
Although you may prefer to pack the bigger stuff when planning a cold-weather wardrobe, taking a lot of lighter items is a smart choice. You can always create the cosy and warm feeling by layering up. You will also have more options to mix and match the outfits.
6. Limit the Colour Palette
When you are staying in cold-weather destinations, you should plan for dark and neutral colours. Black is the ideal colour in this regard. That way it becomes easier to create a stylish outfit with fewer pieces of clothing. You can wear a pair of dark jeans with almost anything. Also, a black coat will work with your entire wardrobe.
7. Bring Your Boots
One pair of stylish boots is what you need when planning your winter vacation – unless you will be traversing rough terrain. A lot of heavy shoes will take up precious luggage space. If you are heading to a destination like Iceland, you will need a sturdier pair of boots. You will save a lot of space by sticking to one pair of sturdy boots. Boots also make a great place to store your socks and underwear.
8. Pick the Right Accessories
Accessories are often left by the wayside when planning a winter vacation. But they are important. Consider buying gloves with wool linings as well as special touchscreen tips to access your smartphone apps without getting frozen fingers. Colourful scarves and statement jewellery are a great way to make the same outfit look different.